We can provide a higher standard of deep cleaning using ordinary tap water to produce superheated dry steam. This system is environmental as it uses no chemical solutions, giving a sanitized, deodorized deep clean.
Steam cleaning is also proven to kill 100% of all dustmites and bacteria, so this is brilliant for asthma and allergy sufferers.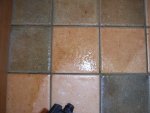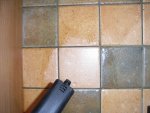 Steam cleaning is great for floors, tiles, toilets and sinks, fixtures, kitchens, windows, painted walls - the list is endless.
Why not treat yourself to a Steam Clean - satisfied customers have reported that their kitchen after the steam clean looked like someone had re-decorated, installed new units and flooring and put up new tiles! Well a new kitchen costs thousands - a 7 hour intensive steam clean is less than £100. At these prices you can get the feel of a new kitchen twice a year!